Comprehensive Estate Planning Law Firm in Maryland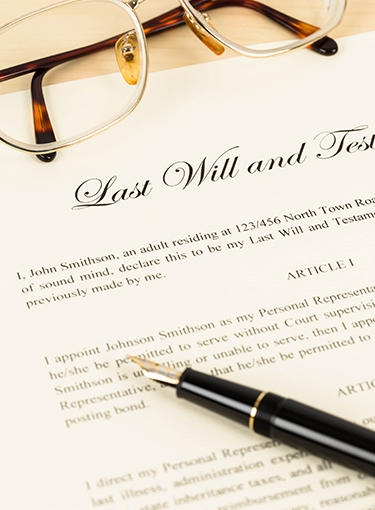 The estate planning lawyers at Royston, Mueller, McLean & Reid, LLP provide sophisticated advice and assistance to individuals and families throughout Maryland to develop and monitor lifetime plans.  Through comprehensive review of specific individual needs, and consulting with your other professional advisors such as accountants and investment advisors, our attorneys help clients achieve financial goals for their families and their future generations.  Our services include succession planning for business owners and wealth transfers within families.  We also provide the legal guidance and advice needed to navigate probate and deal with the taxing authorities when a family member dies.
PLANNING YOUR ESTATE
No one relishes planning for their own demise.  Yet a failure to do so could result in a catastrophic loss of family wealth and the loss of an opportunity to pass family values, such as responsible money management and philanthropy, down to future generations.  The attorneys at Royston, Mueller, McLean & Reid, LLP pride themselves on listening to clients' goals and crafting common sense plans to meet those goals.  Whether it involves the drafting of wills to provide maximum estate tax savings or developing strategies for lifetime gifting which result in tax-efficient transfers of wealth, our attorneys have the experience and skill to accomplish the family's plan.  Our array of legal solutions includes:
PLANNING FOR TRANSFERS UPON DEATH
Wills
Revocable Living Trusts
Charitable Planning

Buy-Sell Agreements
Irrevocable Life Insurance Trusts
Planning for Children with Special Needs
LIFETIME WEALTH TRANSFERS
Gifts to Family Members and Charitable Organizations
Intra-Family Loans
Sale/Gift of Business Interests
Grantor Retained Annuity Trusts (GRATs)
Qualified Personal Residence Trusts (QPRTs)

Irrevocable Life Insurance Trusts (ILITs)
Charitable Lead Annuity Trusts (CLATs)
Charitable Remainder Unitrusts (CRUTs) or Annuity Trusts (CRATs)
Asset Protection Trusts
Gift Tax Return Preparation
OTHER PLANNING
Powers of Attorney
Advance Medical Directives
ESTATE ADMINISTRATION
"… in this world nothing can be said to be certain, except death and taxes."
BENJAMIN FRANKLIN IN A LETTER TO JEAN-BAPTISTE LEROY, NOVEMBER 13, 1789
On this cheery note, we remind our clients of the inevitable: some day we all must meet our end.  If you have planned well (see above), the administration of your estate, or revocable living trust as the case may be, should be orderly and problem-free.  Nonetheless, whether it is in dealing with the Register of Wills, corresponding with insurance companies, retirement plan administrators and other financial institutions, or interfacing with the Internal Revenue Service or the Comptroller of Maryland, complications and burdens can arise, and clients appreciate advisors who can take on the "heavy lifting" while family members cope with grieving and other personal matters.  This is where our attorneys and experienced staff come in.  Through the administration of countless estates over our firm's history, we are well acquainted with the probate process and the personnel within the government offices which oversee probate and tax matters.  In administrative matters where an attorney's involvement is not necessarily required, we are supported by an experienced team of paralegals and staff who know how to satisfy the requirements of financial institutions and the probate courts.  Moreover, we have a great deal of experience in preparing estate tax returns and estate income tax returns, and count among our attorneys a Certified Public Accountant.  In this sense, we provide the full slate of services needed to satisfy the family's needs in the administration of a family member's estate, including the services listed below:
Petition for Probate
Inventory
Administration Accounts

Asset Marshalling and Re-Titling of Assets
Estate Tax Return Preparation
Estate Income Tax Return Preparation
OTHER TRUSTS AND ESTATES SERVICES
Our trusts and estates attorneys frequently work with other firm attorneys in helping clients tackle issues requiring a combination of skills.  Also, when asked, our attorneys serve in positions of trust and responsibility, whether such positions include serving as a trustee of a trust or personal representative (executor) of an estate.  Among these additional services are the following:
Will Contests
Pre-Marital Planning (Prenuptial Agreements)
Post-Marital Agreements
Trusteeship
Guardianship
BALTIMORE COUNTY'S OLDEST TRUST AND ESTATE LAW FIRM
Ideally, the best time to plan your estate is long before you need to execute your plan.  Royston, Mueller, McLean & Reid, LLP can help you develop and execute your plan, and review and change it as your needs change.  Contact us whenever you need help with a will, trust, estate, or probate matter.
Search for attorney by name
Sorry, we couldn't find any posts. Please try a different search.